The only thing more intriguing than celebrity engagement announcements is the big reveal of their generally flashy engagement diamond rings. With trends forever evolving, we have seen a wide range of engagement ring styles in Hollywood throughout the years. From vintage vibes to emerald gems, celebrities are certainly breaking the bank and sparing no expense with their choice of jewels, giving us more to ooh and ahh over. With the new year here, we thought it would be fun to look back at the diamond rings that have made their way onto celebrity fingers along with some of the most iconic Hollywood bling.
Josephine Skriver and Alex DeLeon

This angel was given another reason to shine when her American singer-songwriter boyfriend, Alex DeLeon, popped the question with a split-shank, emerald-cut sparkler! The split shank band divides into two as it approaches the center stone. It exudes a refined taste when paired with an emerald cut, one of the many beautiful diamond shapes. It is a classic choice that we will be seeing a lot of in the new year!
Priyanka Chopra and Nick Jonas

One of the hottest couples in Hollywood right now is these two, proving that love at first sight truly does exist. For someone who has been seen sporting the latest fashion trends, Jonas hit it out of the park by gifting his now wife with a customized Tiffany & Co. cushion cut diamond with tapered baguettes. The cushion cut is both feminine and trendy, which exemplifies Priyanka's personality to a T. Well done Mr. Jonas!
Elizabeth Taylor and Mike Todd

Talk about a woman who went down in history, not only for her amazing career but for the diamonds she received along the way! Married a remarkable eight times, there's no doubt she had a passion for sparkling diamonds. Although her marriage to Mike Todd was short-lived, her 29.4-carat emerald cut Cartier engagement ring will live to stand the test of time, going down as one of the most dazzling diamond rings ever in celebrity history. Check some similar engagement rings on Moon Magic site.
Emily Ratajkowski and Sebastian Bear-McClard

Probably one of the most unique celebrity engagement rings we've seen, well maybe ever, would go to Emily Ratajkowski, given to her by her now husband, producer Sebastian Bear-McClard. This two stone engagement ring features side-by-side princess and pear cut diamonds and can be seen worn aside her original gold band. This uniquely gorgeous themed ring certainly gives new meaning to double the fun!
Katharine McPhee and David Foster

This show-stopping ring features a halo of diamonds around the large center emerald stone. It is set on a split-shank pavé band. Emerald cuts exude elegance and refinement. Their elongated shape and step-cut faceting are perfect for someone on the more understated side, which is what we would characterize Katherine to be. Overall, a great fit for her!
George Clooney and Amal Clooney

What could be more polished than Amal and George Clooney's relationship? Oh, that's right, her ring! This 7-8 carat emerald cut center diamond with tapered baguette diamond accents on each side has us wishing we had a George Clooney ourselves! Again, the perfect match to fit the elegance of Amal. It also goes along with the major vibes she gives us all on every red carpet event.
Chrissy Teigen and John Legend

Should we talk about couple goals, or ring goals, because it's both with these two! The long-time couple turned husband and wife, John Legend and Chrissy Teigen continues to bless us with their love day in and day out. And with a large cushion ring with a thin diamond studded band like that, who can blame them? A cushion's curved corners and brilliant facets are ideal for someone searching for a soft look with a lot of shine, and boy does that baby sparkle!
Justin Bieber & Hailey Baldwin

Baby, baby, baby, have you seen Hailey Bieber's rock? The Biebs knocked it out of the park when he chose a 6-10 carat oval stone for his newlywed wife. Oval cuts have become one of the most popular diamond shapes this year. It's perfect for those who love to stay ahead of the trends but also admire a classic, elegant look. This ring will definitely be sure to stand the test of time!
Eva Longoria and Jose Baston

Jose Baston was certainly ahead of the trends when he got down on one knee and proposed to Eva Longoria with a ruby center stone surrounded by diamonds. Rubies are a very meaningful stone to receive, especially by a loved one. Rubies stand for the stone of love, energy, passion, power, and a zest for life. Unlike any other gemstone, the ruby is the ideal symbol to express your powerful feelings of love. So I guess what we are saying is, can we have a Jose Baston??
Olivia Wilde and Jason Sudeikis

What do you get when you pair a funny guy with a knock-out lady? A one-of-a-kind engagement ring, that's what! Jason Sudeikis broke the mold when he popped the question to wife Olivia Wilde with a brilliant-cut diamond surrounded by a halo of emeralds. A cool blue which symbolizes steadfast bond tempers the lush tones reflected in the gem. Truly a sentimental and meaningful bond to share forever.
Izabel Goulart and Kevin Trapp

Forget the runway, Izabel will now be walking down the aisle towards longtime beau and soccer player, Kevin Trapp. Her brand new shiny accessory features a square cut diamond with a platinum prong setting. This type of cut is for a woman who is not likely to shy from the spotlight. She revels in the attention she receives from her admirers. She also brings a sense of excitement to nearly everything she does. I'd say this is a perfect match for Izabel's lifestyle!
Prince Harry and Meghan Markle

A ring truly fit for a princess! Prince Harry put a personal touch on the engagement ring he gave to Meghan Markle last November. The custom-made ring features a trio of stones atop a yellow gold band. The center diamond, from Botswana, represents where the couple had their first date and the two other stones were keepsakes of the late Princess Diana. So in other words, we're not crying, you're crying.
Joe Jonas & Sophie Turner

Winter is coming, or maybe it is a wedding for newly-engaged Joe Jonas and Sophie Turner? The Jonas Brother popped the question early this year with a pear-shaped double prawned beauty! Those who often move to the beat of their own drum and want a ring unlike everyone else lean toward a pear shape. I don't know about you, but this sounds like a perfect fit for Lady Stark!
John Cena and Nikki Bella

One of the toughest things to watch this year was not only the break up between these two long-time love birds but the return of the giant round-cut stone on a channel-set band that Nikki Bella gave back to John Cena. Cena proposed to the Bella twin after a crowd roaring match at 2017's WrestleMania 33. Unfortunately, they ended up calling off the wedding in early 2018. Even though their relationship didn't last, Nikki Bella's round-cut stone will forever be one of the most beautiful rings we have ever seen.
Margot Robbie and Tom Ackerley

Their wedding may have been a secret, but the beauty and elegance of Margot's ring certainly are not. The sparkler has a solitaire setting with a glittering yellow gold pavé band. It features a half pavé, with the melee diamonds running down the sides, but not entirely extending all the way around the ring. The prongs of the ring are an interesting yellow gold. This is quite an uncommon choice. White gold is typically used for prongs of yellow gold rings to make sure that the diamond doesn't appear more yellow than it actually is (due to the yellow gold reflecting through the stone).
Karlie Kloss and Josh Kushner

Josh Kushner popped the question to his longtime love Karlie Kloss in July of 2018 with a cushion-cut diamond ring with the studded band. Cushion cuts are a classic shape. It's making quite a comeback, with more people realizing what a great combo of elegant style, incredible shine, and great value it offers. Well done Josh!
Kirsten Dunst and Jesse Plemons

On and off-screen lovers, Kirsten Dunst and Jesse Plemons, are officially engaged. Jesse proposed with an oval-shaped diamond enclosed by tapered baguettes on a yellow gold band. This vintage-vibed ring is ideal for couples who tend to shy away from the current trends, with the oval representing their own unique spirits. Ovals are the perfect diamond shape for creative minds that tend to think outside the box. Leave it to the Fargo star to bring back old trends.
Ashley Greene and Paul Khoury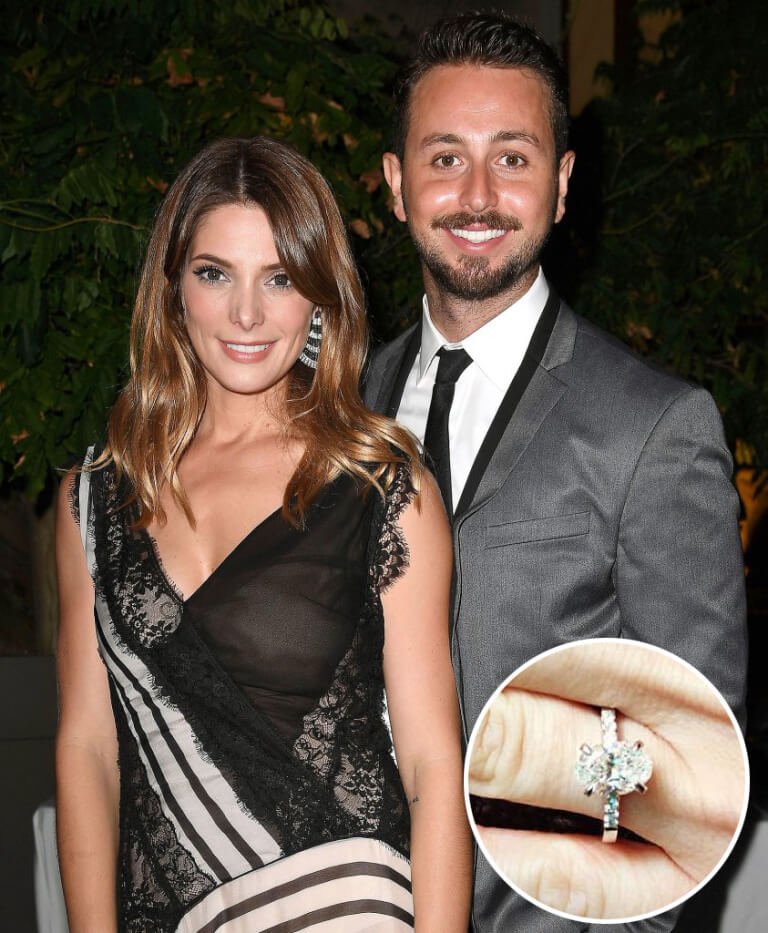 Oval shaped engagement rings are becoming very popular in Hollywood, and Ashley Greene and Paul Khoury are proof. He proposed to his longtime love back in 2017 with a shiny oval shape with a diamond studded band. Let's just say Alice Cullen isn't the only thing that sparkles in the sun! One of the best perks of an oval diamond is its shine. It is a fact that the round diamond shape has the most brilliance of all diamond shapes. However, an oval diamond cut similar to a round diamond comes close. An oval engagement ring is perfect for someone who likes the brilliant shine of a round diamond but would prefer something more unique.
Lady Gaga and Christian Carino

You won't be able to hold a poker face once you see Lady Gaga's pink sapphire, diamond halo engagement ring. The beauty is estimated to be between 11-13 carats giving us a million reasons to admire Christian Carino's taste! Besides the impressive carat size, let's dive into the meaning behind this precious gem. Sapphires symbolize power and strength, as well as kindness and wise judgment. Pink Sapphires bring the wisdom of resilience to one's life, with the lesson that true strength lies in the power of vulnerability.
Kim Kardashian and Kanye West

Imagine getting not one, but two different engagement rings. Well, Kim K doesn't need to imagine. She received her first stone back in 2013 when Kanye West shut down a baseball field to pop the question in front of her friends and family. The ring was a 15-carat, flawless cushion-cut diamond from jeweler Lorraine Schwartz. As we know, cushion cuts enhance the brilliance of the stone, which seems like an awfully iconic choice for the reality star. Her second stone, or should we say upgrade, was a 20-carat emerald cut stone set on another thin french pavé band. The open style of this cut symbolizes an open heart and personal clarity. Unfortunately, this ring was stolen from Kim in her tragic Paris robbery back in 2016. Today you can see her displaying a simple studded band on her finger.
While we'd all love to receive a sparkling rock like most of these celebs, there's the whole issue of budget, or not being able to find the exact ring. If you're like most of us, you may not be able to afford the 29.4 emerald cut like Elizabeth Taylor. But if you work with your local jeweler you can surely find the ring for you! In fact, nowadays, online jewelers like the Blue Nile, for example, offer engagement diamond rings in many different styles that could benefit your taste! From unique diamond shapes to different types of gemstones, the possibilities are endless!
The Most Breathtaking Celebrity Engagement Diamond Rings Ever
was last modified:
October 21st, 2019
by