Sublimation printing, or all-over printing, or dye-sublimation, has become quite a thing over the past few years. Some people claim that it is extremely long-lasting, others choose it because it's environmentally-friendly, but very often they don't really know how it works. There are different types of garment printing, and each one has its advantages and disadvantages, therefore it's worth knowing what it is all about. So what exactly is sublimation printing and why so many people decide on it for their personalized t-shirts and merchandise?
How does sublimation t-shirt printing work?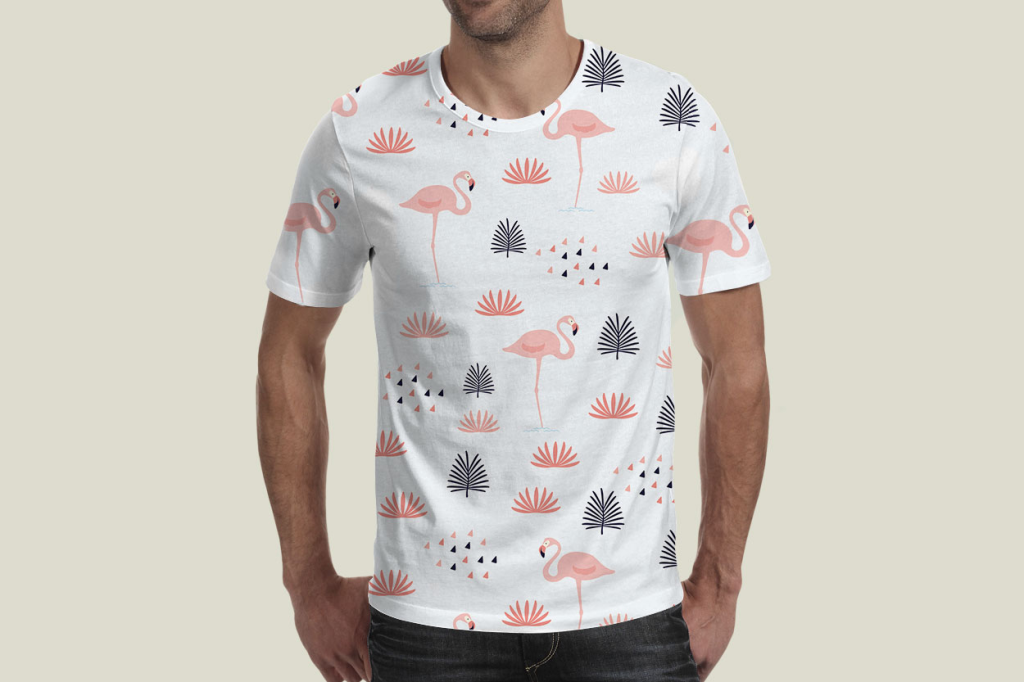 Sublimation is a process during which a material changes its state of matter from solid to gas, avoiding a liquid state. While printing, thanks to the heat, the ink changes into a gas and then fuses with a fabric. When it changes back to its solid form, the dye it's already bonded to the material, in contrary to other printing methods when you create a whole new layer on top of the fabric.
How does sublimation printing look in comparison to other methods?

Screen printing is one of the most popular printing techniques. First, you need to make screens for every colour and every design, but once you have them, it's easy to print more t-shirts, so it's a perfect method for bulk orders. However, considering the costs of screens, it's no longer cost-effective if you want to print smaller batches. Plus, washing and storing the screens can be quite messy and problematic.
Direct-to-garment printing uses inkjet technology to apply designs directly onto fabric. It's the best option when it comes to detailed and colourful designs, but it doesn't work well with dark colours and some materials, like polyester. What's more, it prints one shirt at a time, so you probably won't choose it for mass production. Plus, the printer is not that cheap and, like every device, needs maintenance.
Advantages of sublimation printing

It looks good
There are almost no limits when it comes to design; it can be a detailed graphics full of bright colours and it will look exactly the same on your t-shirt. Plus, it's not the case as with screen or direct-to-garment printing – the price doesn't rise with the number of used colours. What's more, it's possible to print it on the whole fabric.
It's eco-friendly
Sublimation dye doesn't produce any waste, on the contrary to other methods. In today's world, where more and more people are talking about climate change and saving the planet, it is a huge advantage that leaves your conscience clear. Because you only need the heat, sublimation printing doesn't use any water. No waste means also that there's nothing going to the water systems, and the risk of poisoning is eliminated; textiles dyed differently are linked with health problems, even cancer.
It's comfortable
Because sublimation dye changes the colour of the fabric and doesn't create new layers, it allows your shirt to stay soft and breathable; nothing gets stiff. That's why it's the best method to print products for babies and people with skin conditions.
It's high quality
The print looks exactly like a design. There's no loss of colours, nor clarity, so the risk of disappointment is much, much lower. Because the dye is part of the fabric, it won't fade or come off.
Disadvantages of sublimation printing

Limited materials
Because of the temperature, sublimation dye can only be used with synthetic materials or polymers; the others may not withstand the heat. For example, a 100% cotton t-shirt would be damaged after a try or it will fade quickly. In the case of sublimation printing, the dye fuses with polyester fibres, so the more polyester, the better the quality of your print.
It's harder with dark colours
There's no white sublimation ink, so it gets more difficult if you try printing a design on a dark t-shirt. You can deal with it thanks to a polyurethane transfer sheet, but it will no longer be cost-efficient in the case of mass production, and it can fade over time.
Polyester isn't eco-friendly
The whole process might be sustainable, but the material isn't. The only way to stay green is to use only recycled polyester.
Despite some minor cons, sublimation printing seems to be the best option, both for customers and printers. It's fast, it produces zero waste, and finally, leaves you with good quality, soft t-shirts. There are definitely more advantages than disadvantages to sublimation dye, so there's no wonder that it's getting more and more popular.
All There is to Know About Sublimation T-Shirt Printing
was last modified:
November 20th, 2019
by