Doing Halloween makeup is some task to complete. We are here help you out with some ideas of doing the half face Halloween Makeup which can Help you even in the Last Minutes of this occasion.
First of all prime youAfterwardth a face primer and prime your eyes with an eye primer. Afterwards draw a straight line from your hairline, going down between the eyebrows, then down to the chin with the help of the white milky pencil. Now fill one-half of your face with a white face paint. Now draw the corners and edges with the help of the white liner. Now leaving the white paint to dry and set. Come to the other half face and apply makeup there like you usually do.
Use the nude palette for the whole eye look. Put the white shade all over the lid, light brown in the crease, and dark brown in the outer crease. It would give the depth to your eye. Now line up your eyes with a gel liner. Now apply the chocolate brown and the dark brown shade in the crease to create a cut crease look. After doing so blend the medium brown under the eye. Smudge dark brown and the chocolate brown shades close to the waterline. Put the fake eyelashes on and apply the mascara to them. Now outline your eyes, by going above the eyebrows and around the sockets of your eyeballs. Fill the mapped outlines with black gel liner or black face paint. Now do the blending at the edges and this will create more depth to the skull eye.
Now make your eyes frown and follow your natural frown lines and mark them with the black pencil eyeliner. Then blend inwards with a blending brush. Now come to the nose. Draw half a triangle and fill it in with black gel liner. Then you can set it with black eyeshadow. Now draw the skeletal structure of the jaw on your cheek. If the lines are little messy do not worry and fill them with black gel liner later on. Now with the help of a thin liner brush, draw a line extending your lip. Then draw small straight lines on your lips as teeth. Using the blending brush start blending under the bottom teeth.
With the help of the grey eyeshadow and an angled brush, draw lines above the upper teeth to add more depth. Apply the black eyeshadow to your lips to make your lips look dead. Using an angled brush and grey eye shadow, draw a line on one side of each tooth. Using the same brush blend around the jaw area. The more you blend, the better the end result would be. This is supposed to be little messy look. Now apply some grey eyeshadow to your temples to make them look hollow. Apply a brown eyeshadow around the eyes and the nose. Blend it afterward. Using a shaving brush and the light brown eyeshadow, add a line under the eyes.
Your half face Halloween makeup is done. Now you are ready to have some fun. Below we share 21+ Half Face Halloween Makeup Ideas.
Half Face Halloween Makeup Ideas
Halloween Half Face Makeup Tutorial By Aiko Sipe
Most of the Halloween costumes are modeled after supernatural figures such as vampires, monsters, ghosts, skeletons, witches and devils. This half face Halloween makeup can be perfect fit to your costume. Try it out and see whether it can match your costume or not.

Half Skull Halloween Makeup Tutorial By Roxxsaurus
Costume selection is based on popular characters from fiction, celebrities and ninjas and princesses. Check out which costume will suit to this half skull Halloween makeup. Get tutorials to do this makeup and get some creative look.

Half-Face Skeleton Makeup Via True Inspiration Daily
Plan of action should be deciding which creature and for make-up, think of a story and based on the story, put on the make-up and costume. For some costume compliment is optional, so you can have casual ones but spooky makeup. Here we are helping you out with some ideas for doing the skeleton Halloween makeup for last minutes of the Halloween occasion.

Beautiful & Colorful Sugar Skull Halloween Makeup Via Wassup Mate
When it's a skull horror, we know skeletons different bones could be scattered around and still makes sense of horror. So, it comes one by one and here it just starts with a sugar skull. The sugar skull is more of a terror than horror.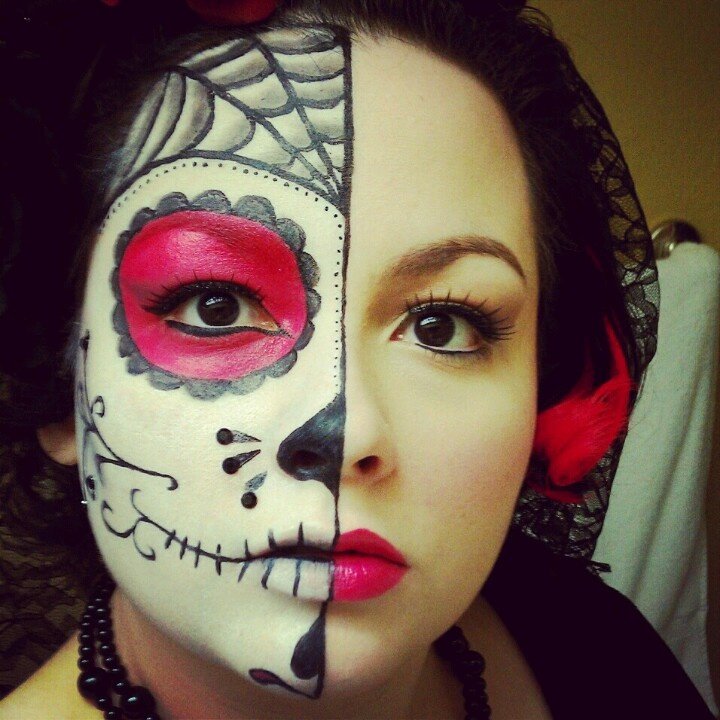 Half Face Skull Makeup Via Happy Halloween Day
Human skulls have power and are being used by Satan to gain more powers. This is occasionally like on a full moon or some other activities which happen over a period of time. They wait for this time and sacrifice human blood and flesh.

Half Skull Face Paint
Do you want to look like half Halloween and half human? This half Halloween makes up is perfect for you. Try it out and see whether you can do it or not. Ask your makeup artist to do it or get a tutorial.

Halloween Tutorial : Edgy Half Face Skull By Nouvelle Daily
To have this wonderful edgy half face skull make up done on your face, either go to your makeup artist or do it yourself with the help of any tutorial. Make sure it matches your costume. Enjoy this Halloween party with this wonderful edgy half face skull makeup.

Half Human Half Skull Face Tutorial By Ravinder Osahn
Terror stories of the skull are all over the town and they are only seen or visible with a goal. Sometimes they are not on their own and are accomplishing commands only. Also, they are the protectors of treasure too. Decide which one you want to be.

Sugar Skull Half Faced by BarbieSpitzmuller
This is an easy make-up but takes a lot of effort to carry it around. When there is a less make-up, costumes and gesture will do the game and this game is tricky. You should always be of the character.

Another Half-Face Skull Halloween Makeup Tutorial By HalloweenMakeup
Skull grinning while looking at you and that might be terrible for you. They might want something from you or want to sacrifice your body to their commander. Whatever it is, he won't leave you for sure and the mission has to be accomplished.

Day Of The Dead Half Face Painting
Deadman lures the kids and that is why they put colors on them to attract the kids and get the pure blood for more power. This is how they reach to complete their desires of being most powerful and make everyone their slaves.

Gorgeous Looking Zombie Halloween Makeup Theme By Alana Dawn
Ghosts mask themselves in the beautiful face to attract the prey and make them aloof. Once they reach a secluded place, the ghost appears in front of the prey and attack following a dreadful murder and a horrible story for the newspaper headlines.

Tutorial For Halloween Half Skull Makeup By Abby Roberts
Half skull makeup would be a good idea when you do not want to look annoying with those wounds and cuts and fake blood. It just needs you to target on the kind of skull you want and get it done. Nothing over the top things that scares the hell out of you while looking in the mirror.

Simple Hairdos For a Skeleton Via pinterest
Get a complimentary costume when you are going to do this make-up because that will surely add up positively in the appearance. And another plus factor is you can look gorgeous too. In the end that's all we want.

Pretty Half Candy Skull Makeup
Sugar skulls are often used as a decorative piece and do not forget they add the décor to the graveyard. Also, honoring the return of the loved one is a part of their job. They put their name on the forehead and that's what adds the spookiness into it.

Candy Skull Halloween Makeup
Skull made of candy waiting to return a departed soul. Now, the soul returns but this time not as a human but as a ghost wearing the same skull on the graveyard, so people can recognize him and got scared. That's the ultimate goal.

Real-Girl Halloween Costumes Black & White Theme Via imgur
What happens when you stand straight with courage in front of a skeleton which is currently appearing piece by piece? Probably you are made to sacrifice for the powers they need. Not always they present you their treasure.

Skeleton Half Face Makeup Via Fashion Climaxx
She is craving for more power and looking out for people to hunt and sacrifice their blood and flesh and Halloween is the night of sacrifice. Prepare yourself not to be tricked by and you find yourself in some secluded place.

Tiger Half Face Halloween Makeup By Marian
It is full moon night and you will be your true self-today. From human to being a beast, you forget the love and affection and only want blood and flesh. It is your true identity but not accepted but forced to be one. The reason is your demonic characteristics from inside that you are born with.

Half Skeleton Half Human Face Halloween Makeup Tutorial By Primp Powder Pout
Halloween parties have several games associated with Halloween such as foretelling one's fortune or future of spouse or partner. Take part in such games at the Halloween party with your scary Halloween costume and wonderful half skeleton half human face Halloween make up.

Half Skull Half Glam Tutorial By Blend N Smack
A simple half skull make-up ready for the Halloween day when you do not have enough time planning for it! At the last moment also, you need something good enough for the survival and not being out of the box for not doing at all.

Medium Face Mexican Skull Makeup Via Makeup Geek
Skull candy comes from Mexico from the day of dead, so basically you can explore more of the spooky characters around the world and get a unique look. And, the right deal is not to overdo it. Overdo the makeup and costumes and accessories. Choose two and that should be it.

Best 21+ Half Face Halloween Makeup Ideas & Tutorial
was last modified:
October 10th, 2018
by