Are you looking forward to having some fun with your friends or family? Do you want to spend quality time with your loved one? Have you been working on a hectic schedule for a long time? If the answer is yes, you can travel to Cancun, Mexico and enjoy a beautiful and adventurous Caribbean retreat. Cancun is a Mexican on the northeast coast of the Yucatán Peninsula in Quintana Roo. Cancun is Mexico's most popular coastal tourist destination. Its soft coral sands, the breathtaking Caribbean Sea, and clear turquoise waters make it great sight.  Ranging from its trendy nightlife to its underwater museum, Cancun Mexico has it all for travelers looking to have the vacation of their life.
However, Cancun is not all about its famous nightlife, beaches, and all-inclusive resorts. It is also chilled out, sophisticated, artsy and filled with interesting local culture. Activities and entertainment options in Cancun Mexico are quite diverse. You can enjoy Cancun's beautiful beaches lazing around with a cold drink or take a languid stroll along the beach. The wide variety of water sports offered includes swimming, water skiing, windsurfing, para-sailing, snorkeling, and scuba diving. Also, visit the Maya Museum and San Miguelito site to learn about the Mayan culture. Visitors interested in shopping can visit Mercado 28, La Isla Shopping Village, Malecon Americas, Luxury Avenue, and Kukulcan Plaza. With a rental boat, you can visit nearby tourist places like Chichen Itza and Isla Mujeres with much ease.
Visit Downtown Cancun Mexico

The Best Flea Markets in Downtown Cancun via The Culture Trip
Cancun is composed of 2 distinct areas: the more traditional downtown area, El Centro, and Zona Hotelera or the hotel zone, a long strip of high-rise hotels, nightclubs, shops, and restaurants. Downtown Cancun, a typical Mexican town on the mainland is home to a majority of Cancun residents. Places to visit include the ancient Mayan ruins of El Meco, Parque de las Palapas, Mercado 28 (Market 28), Malecon Americas, and Plaza de Toros (where bullfights are held). Parque de las Palapas is known for its local culture including live musical performances, exhibitions, fashion shows, and dance productions. Plaza de Toros is Cancun's bullring and hosts bullfights, concerts and other events.
Visit Chichen Itza

Chichen Itza Tour by Travel Yucatan
Chichen Itza is a Mayan archaeological site in the Yucatan Peninsula of Mexico. It is the largest of the archaeological cities of the pre-Columbian Mayan civilization which was granted World Heritage Site status in 1988 by UNESCO World Heritage Site. Recently selected as one of the New Seven Wonders of the World, Chichen Itza is one of Mexico's most visited tourist destinations. Places of interest here include El Castillo, Temple of the Warriors, Great Ballcourt, and the Sacred Cenote.
Day Trip to Isla Mujeres

Isla Mujeres is an island with beautiful, tranquil beaches and a laid-back vibe located just off the coast of Cancun Mexico. The Turtle Farm in Isla Mujeres protects hundreds of eggs laid in the sand every year and releases it after hatching season. Punta Sur is home to an ancient Mayan temple and an outdoor sculpture garden representing the Mayan spirit through artwork from 23 artists from all over the world. The Garrafon Natural Reef Park, set along a large reef formation is a popular spot for snorkeling, kayaking, zip lining, and swimming with dolphins. Just southwest of Isla Mujeres is Museo Subacuatico de Arte, an underwater museum filled with more than 500 man-made, life-size statues that also act as an artificial reef to help revitalize the marine life along the damaged Manchones Reef.
Discover Scuba Diving

Riviera Maya Mexico by Blue Water Dive Travel
The beautiful and stunning location of the Mayan Riviera makes the entire Yucatan peninsula one of the world's best diving spots. Cancun Mexico has both shallow waters and also the second largest barrier reef in the world. Hence, it's a great place for both beginners and professional divers. If you love diving or you want to have an adventurous and fun holiday in Mexico, you definitely have to try scuba diving in Cancun. Experience diving through the majestic underwater museum has statues which act as an artificial reef to help revitalize the marine life. You can also witness the richness of underwater life and swim with thousands of fishes, turtles, stingrays and much more.
Take a Yacht or Boat

You can get various kinds of racing boat rentals, luxury boats and fishing boat options at a trusted rental website. Nautal rental boat company has a variety of affordable and well-maintained boats for your fun. Instead of wandering here and there, take the help of a trusted rental boat company near you. You can choose to go to your favorite destinations in waters by hiring the rental boat. You can hire high-quality rental boats from a reputable company to go for Valladolid Full-Day Tour. There are many benefits of taking help of a trusted company for enjoying Cancun Jungle Tour. Now, you don't need to think for second before hiring any rental boat company.
Rent a Boat instead of Buying it
When the summer comes, most of us just want to have fun with our closed ones near the waters, but not everyone can own a boat personally. Purchasing a boat can be a lot more expensive task. That's why you should decide to get the rental boats at reasonable prices from the trusted company. You can get a number of options to choose from. Whether you want to go fishing or water skiing, boat rentals can be a nice option for you to have an adventurous day. Now, you can easily go Scuba Diving after renting your own boat to Cancun Mexico.
Forget All your Worries on the Rental Yacht
When you get fed up with all your life problems, and at that time, boat rentals can help you to forget all of the worries, and you can focus on enjoying yourselves. The people who keep doing boating from time to time can learn new tricks and techniques to handle the boat. You can learn fishing if you are not an expert in it and if you know how to do fishing, then you can enjoy your hobby on the yacht.
Get Training and Professional Help
People interested in going on a day trip to Isla Mujeres can hire the boat rentals. Everyone can have a lot of fun after getting training from a trusted boat rental company. There are various education methods to learn about the safety and security of rental boats. Once taught, you can easily operate the boats on your own.
Enjoy Water Sports
Hiring a trusted boat rental company helps you have fun without worrying about paying extra money for a wrong deal. You can enjoy numerous water sports with your family or friends in Cancun Mexico. Hence, don't give a second thought to the idea of hiring rental boat services. You can play different kinds of water sports and have new experiences and adventures in the water. Having a Tulum Express Tour is also a nice option if you want to do something new on this trip.
Procedure to hire the rental boats
If you are interested in hiring the rental boats, then you can decide to look for trusted companies from where you can get the rental boats at reasonable prices. It's important that you don't make a compromise while you are looking for a nice quality of rental boat because you can take the help of nautal rental Boat Company if you are interested in hiring best quality of boats.
You just need to go to the online platform and then you can select from the wide range of options available. You are definitely going to the love the services provided by the company because the professionals make sure that each and every part of the boat is maintained correctly.
There won't be any kind of difficulty to you when you are using the rental boats because would be getting high quality of boats at reasonable prices.
You can talk to the professional of the company regarding your need to hire the rental boat and then within a few minutes your rental boat request would be confirmed. You can make the payment for it through any of the online payment methods.
These are some simple steps with which you can hire a rental boat. Whether you want to go for a party or you are just going to spend time with your family and friends, you will never get disappointed with the services of this trusted company. So go ahead, plan a vacation to Mexico and have a lot of fun in the clear Cancun waters!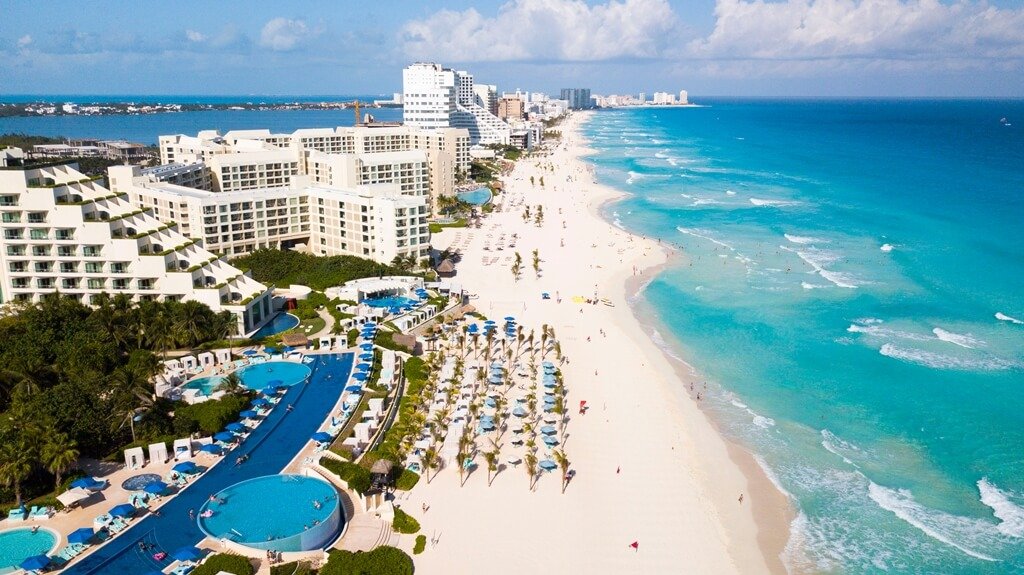 An Aerial View of Beach in Cancun, Mexico by SVongpra/Shutterstock
Cancun Jungle Tour

Tour Xenotes Cancun by Nexus Tours
The Cancun Jungle Tour is one of Cancun's most popular tours.  Located right in the middle of the Cancun Hotel Zone, the Jungle Tour is perfect for a quick excursion that won't take all day and is fun for the whole family. You can hop on your own speedboat and follow the tour guide through the green mangrove channels along the Nicupte Lagoon. Also, experience snorkeling and admire the undersea life in the beautiful Punta Nizuc, part of the world's second-largest coral reef. Other activities include zip lining above the Mayan jungle canopy and driving your own off-road vehicle through the lush jungle on an ATV tour.
Valladolid Full-Day Tour

From Mérida: Full-Day Guided Excursion To Valladolid & Ek Balam via Experi Tour
The city of Valladolid in Yucatan is an attractive fusion of flavors, colors, traditions, and natural beauty. This city radiates 16th-century Spanish colonialism but stays true to its Mayan heritage as well. From colonial era churches and architecture to natural attractions like cenote, Valladolid offers a wide variety of sights for the tourists. It is filled with colorful houses and several majestic temples such as the famous Church of St. Servatius (San Gervasio), the beautiful former convent of San Bernardino de Siena, the Candelaria Church, among others. Other places of interest include the main center park (Francisco Canton Rosado), Cenote Zaci, Museo San Roque, House of the Culture (Casa de la Cultura), House of the Deer (Casa de Los Venados), and Parque de Los Héroes (Park of the Heroes).
Tulum Express Tour

Riviera Maya Tulum Express by Riviera Maya Excursions
Tulum is an ancient, walled city perched on a cliff top with a spectacular view of the rising sun. It is one of Mexico's most preserved Mayan sites. This walled trading port played an important part in the development of Maya culture and commerce. Its famous landmarks include the stepped pyramid of El Castillo and the remarkably intact faces at the Temple of the Frescoes. Apart from the ruins, Tulum also offers various water sports, swimming with dolphins, 4 different eco-parks, and the Sian Ka'an biosphere. The Sian Ka'an biosphere is a World Heritage site. This natural wonder contains tropical forests, mangroves, marshes, barrier reef and various species including dolphins, birds, crocodiles, sea turtles, monkeys, and tropical fish.
Traveling to Cancun Mexico – A Dream Destination
was last modified:
October 26th, 2018
by